I'm super excited to tell you about this company I reviewed , I think the products they carry are one of the BEST GIFT IDEAS to give out and GREAT for Kids and Tweens! By far the best packaging and detail oriented company I have worked with.
I secretly thought to myself, Now if these were around when we were younger and got asked do you want your mouth washed out with soap my answer might just be "yes please" once you see how real these soaps look and smell like the real thing.
The company is called Soapy Love and it's all handmade in San Diego, California.
Here are some of the items:
Well known for our adorable glycerin Soapy Pops (sometimes called soapsicles or soap popsicles)
$7.99
New Lolly Soaps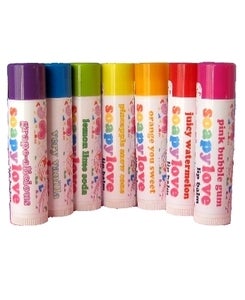 Lip Balms
Perfumes
Gift Box Option
~AMAZING~
I received the

New Heat Waves Soapy Pop.
It's 3oz of yummy smelling Papaya scent and skin-loving glycerin soap just won me over right when I opened it and not to mention the amazing neon colors it's an adorable addition to any ones bathroom sink or shower!!!
My kid's were just in love with it and asked if we could get more (of course we will!)
*I say this is a Kid and Parent Approved product for sure*
Not only was I very impressed with the soap but I was also sent a couple other items in a gift box beautifully packaged I really didn't want to open it it was so adorable!
I tried the Pink Bubble Gum Lip Balm and just LOVED it!!!
It went on smooth left my lips moisturized, soft and the cute packaging was a bonus. Now it's not a pink color that's just the name and I love that it doesn't have color so my kids can use it and that I can use my own lipgloss over the lip balm and it not effect the color I am wearing.
I let my friend try it and she said it reminded her of the brand soft lips, and you know what yes she is right I would compare it to that but way better!
I cant wait to try all the other flavors.
~Juicy Watermelon
~Orange You Sweet
~Pineapple Snow Cone
~Lemon-Lime Soda
~Very Vinilla
~grape-alicious
~Pink Bubble Gum <--YUM
*I say this is a Kid and Parent Approved product for sure*
Last but not least I tried the Rock n' Roll-on Perfume in Island Girl.
I love that it smells amazing like I really am on a tropical vacation and it fits right in the palm of my hand so I can stick it in my pocket, toss it in my purse or keep at my bed side. The roller ball works great and rolls on smooth I get product without having to work for it. <3
The smell lasted a couple hours and friends complemented me at our work meeting on how good I smelled then I let them all try it and they wanted some of their own and some for their kids. We all thought the confetti added that extra touch of love and awesomeness we think all products should come with so big kudos to Soapy Love for paying attention to detail.
*I say this is a Kid and Parent Approved product for sure*
Everyone I showed thought the gift box was so unique and fun it really is a great gift for young kids the soap is easy to use and is a perfect alternative for those little ones that have bar soaps constantly slipping out of their hands.
I would recommend this as a great Easter Basket Gift, a shower gift and most of all a BIRTHDAY GIFT. Really it's a any day gift because it's just too awesome not to pass along!!!
*NOW HERE IS THE BIG BONUS
FOR YOU 20% OFF YOUR ENTIRE ORDER*
Use Coupon Code:
STELLAGRACE
Make sure to check out Soapy Love on Facebook and Etsy tell them Stella Grace Creations sent you.
You can also keep updated with more from me on my facebook: